When stacking grass or maize, the grass fork is an invaluable tool. JST offers both a grass fork with hydraulic folding sides and a root grapple as a slightly cheaper alternative.

Click below and get access to details such as width, weight and prices on grass fork and root grapple.

If you are looking for something that isn't standard, please contact us. We always find a solution for our customers.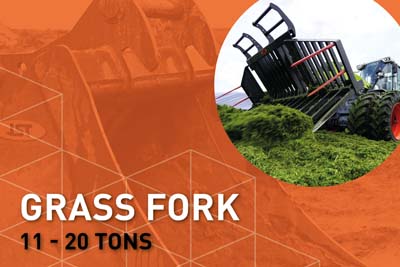 ---
Hydraulic folding grass fork
Our grass fork with hydraulic side folding has received very good reviews from our customers, who praise it for being very effective. The hydraulic side folding provides different ways to use the grass fork, with better control and easier stacking of grass, maize etc. The distance between the teeth are optimal for grass, as the grass follows up and is easy to level out.
The grass fork is weight-optimized and available in different widths and with different hitches, LED work lights, position lights, maize plate and transportation frame as extras.

The hydraulic folding grass fork is available in widths of 430 cm or 488 cm.

The grass fork fits loaders 11 – 20 tons, and is delivered as standard with Volvo BM hitches, but can also be delivered with other hitches, e.g. JST/Viby wedge hitches, CAT SW2008, CAT Fusion or Volvo L150-180.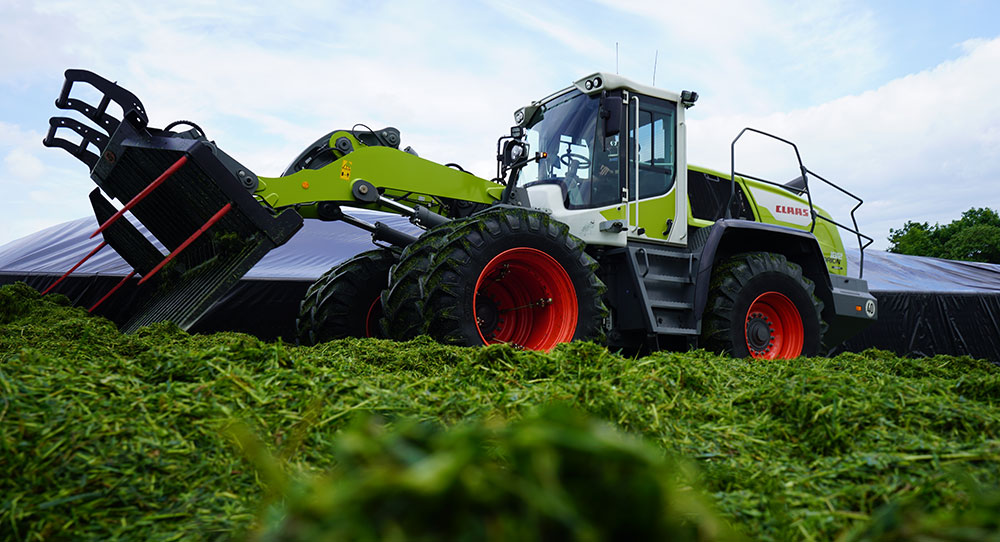 'It is a nice grass fork! I have been a loader driver for 13 years and I have tried root grapples and so on. I always used to return to the bucket because it is best at levelling out. But now I've put the buckets aside. With the grass fork on the loader I have time for an extra cup of coffee!'


Claus from Bounum Maskinstation (Machine station)
---
Maize base plate and transportation frame for grass fork
The maize base plate is with a smooth surface and cutting edge, which makes it really effective for maize. It is among other things optimal for cleaning in front of the stack and for flattening the stack perfectly to avoid air under the plastic. The side tips keeps the maize inside the fork when pushing it up. The base plate is easy to attach with nails and ring splits, so that it is quick to switch between grass and maize.

The transportation frame provides extra safety when driving with the grass fork on the road, and is easy to mount with a chain and fireman's hook. It is painted in a nice yellow signal colour.

The grass fork is also available with different mountings, LED work lights and position light.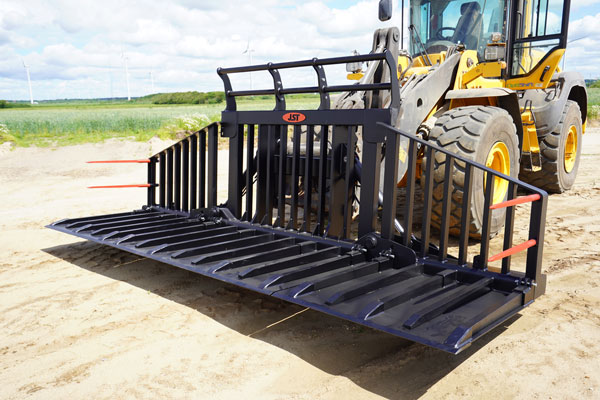 ---
Root grapple for grass or maize
JST GG root grapple is a slightly cheaper alternative to the grass fork, but still a really good and effective tool for grass and maize.

When working with grass add protective edge and side plates to our standard root grapple. If you are going to use the root grapple for maize you need to add the maize plate with cutting edge and fork pockets to the root grapple.

You can buy extra teeth to create a smaller distance, so the root grapple fits your needs. We recommend this, if you are going to work in grass, so that the grass will follow up easier. The teeth on our root grip are made from 50mm H450 high strength steel for better durability.

The root grapple is available in following widths: 250 cm, 275 cm, 300 cm, 325 cm, 350 cm.

The root grapple is made for loaders in sizes from 11 – 20,5 tons, and is delivered as standard with a Volvo BM hitch, but can also be supplied with other hitches such as JST/Viby wedge coupler, CAT SW2007, CAT SW2008, CAT Fusion, Volvo L150-180.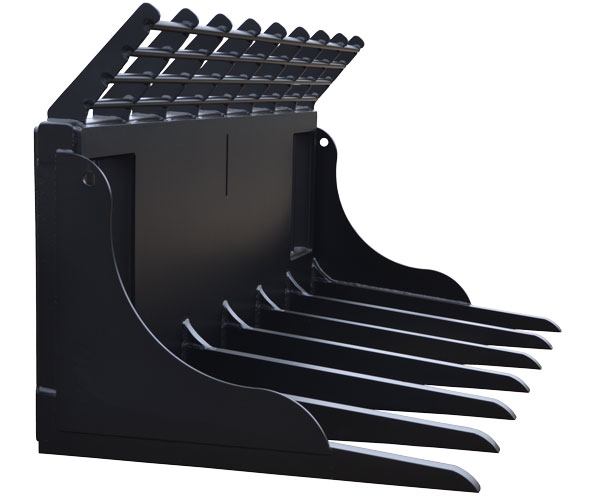 ---
Contact a sales person
You are always welcome to contact one of our sales people, if you need further information or help choosing equipment.