JST demolition bucket at Kloster A/S digs recycled asphalt – a rough environment where the bucket is under maximum load
Kloster A/S offers crushing services throughout Denmark. For this purpose, they recently had a heavy duty digging bucket made (or demolition bucket, as it's also known). It is currently being used to dig recycled asphalt at Colas Asphalt Plant in Horsens, Denmark. A rough environment where the bucket is under maximum load.
Influenced the design of the bucket
Kloster A/S has been involved in the design of the demolition bucket. Niels from JST visited the company to talk to them about how the bucket should be designed. This ensures that the customised bucket hits the mark in relation to the customer's wishes and requirements.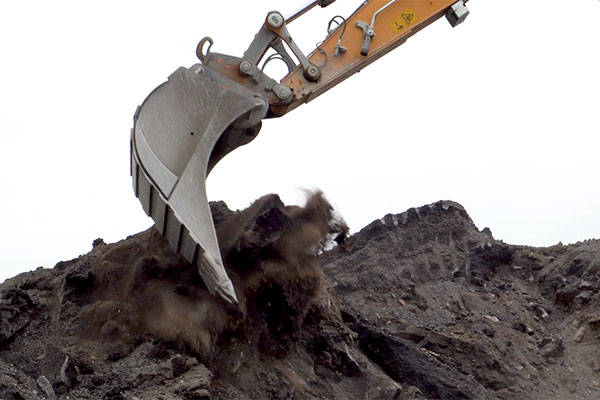 Built to handle large chunks of asphalt
The operator emphasised that the bucket should have very open sides and a long base. The recycled asphalt that Kloster A/S handles is in a big pile where it melts together. It must therefore be broken up before it can be loaded into the crusher. The bucket must therefore be able to both break the asphalt into pieces and sometimes handle larger pieces of asphalt. The more open sides allow larger pieces of asphalt to lie over the sides of the bucket without the operator dropping them.
Replaceable wear parts increase the bucket's lifetime
To break up the asphalt, the bucket is fitted with 4.5" teeth, which Kloster A/S replaces themselves as the teeth wear out. They have ordered a good stock of teeth, but of course we always have various wear parts for our buckets in stock for easy ordering.

The bucket is also made from H450 high-strength steel in a thick dimension to withstand the tough environment. It is fitted with wear bars on the back, which can also be replaced with new ones when they wear out.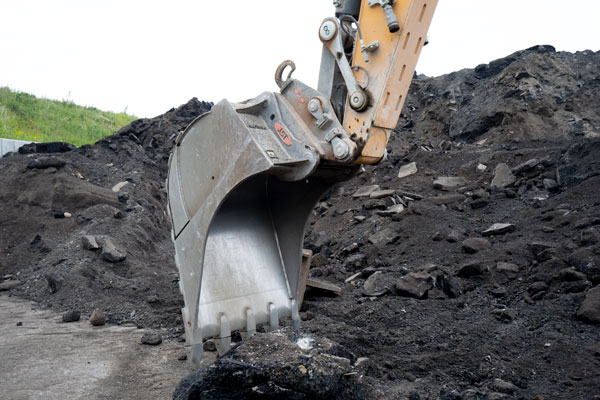 Quality material
A standard 145 cm wide digging bucket for earthworks weighs well over a tonne… Even in high-strength steel, which is lighter and stronger, the heavy duty digging bucket manufactured by Kloster A/S weighs 1900 kg. So there's additional quality material in the bucket to help it withstand the environment it's used in.

Kloster A/S has three 930s and one 934 excavator, and both machines and buckets have been purchased through our dealer, JMM Group.