JST offers a wide selection of cable buckets for excavators with an operating weight from 2.8 tons to 16 tons. You can find our cable buckets in our Nordic line – a line of buckets made of high strength steel which makes the buckets lighter and stronger.

Click below to see prices and sizes (width, volume etc.) in our catalogue.

Do you need a special design? – Please contact us. We are experienced in making custom made buckets.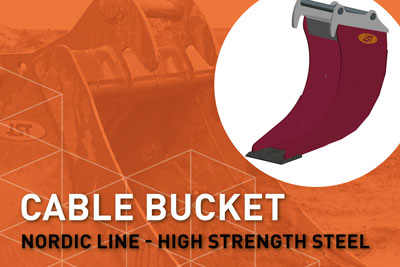 ---
Cable buckets in high strength steel
The buckets in Nordic line are made of high strength steel – a material that is both lighter and stronger, so you can get the most out of your machine. We offer you a wide selection of widths and sideplate profiles. In addition, several different extra options are available: Teeth, cutting edges and ground protection mat hooks.

Click below to see the specifications and prices for the buckets in our catalogue:

2,8 – 4 tons | 4 – 6 tons | 6 – 9 tons | 9 – 12 tons | 12 – 16 tons | 16 – 20 tons |

Contact us for prices and details on other sizes.
NOTE: All prices are excl. raw material surcharge of currently 0%