JST offers a wide range of V-ditch buckets, also known as v-buckets, for excavators with an operating weight from 800 kg to 90 tonnes. Depending on the load capacity of your machine, you can get the V-ditch bucket in different sizes that are suitable for different tasks.
Whether you're excavating for foundations or digging a trench to drain an area, a V-ditch bucket is ideal for the job. With a V-ditch bucket, you can dig a deep and straight trench in no time.
You'll find JST V-ditch buckets in Nordic Line, made from high-strength steel that is both lighter and stronger. Click below to see prices and sizes (width and content) in our catalogue.

If you want a customised design, please contact us. We have many years of experience in customised buckets.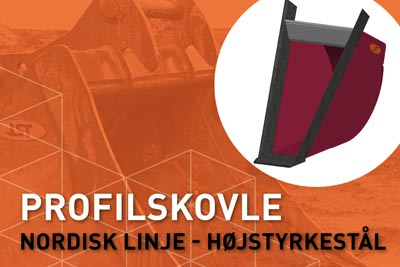 ---
V-ditch buckets in high-strength steel
Our popular V-ditch buckets are available in Nordic Line, which is made from high-strength steel that is both lighter and stronger. We offer a wide range of Nordic V-ditch buckets with different widths. In addition, there are several different add-ons, such as teeth, wide tips and welded wide tips, as well as cutting edges and ground protection mat hooks.

Click below to see the specifications and prices of the buckets in our catalogue:
800 kg – 1.4 tonnes | 1.4 – 2 tonnes | 2 – 2.8 tonnes | 2.8 – 4 tonnes | 4 – 6 tonnes | 6 – 9 tonnes | 12 – 16 tonnes | 20 – 25 tonnes | 25 – 32 tonnes | 32 – 40 tonnes

Contact us for prices and details on other sizes.
NOTE: All prices are excl. raw material surcharge of currently 0%